Region Lovers, the blogs of Claire and Manu
Plan your trip easily,
experience it intensely!
Since 2013, we have been providing all the useful tips for travelers to make their vacations successful and sharing 1001 ways to awaken their senses during their stays.
Claire and Manu's blogs
A sister with a passion for travel, an epicurean brother, strong family values… blogs that we have built in our image and at the service of travelers from all over the world.
Independant
We are committed to our independence to best advise our readers. Also, we travel anonymously and pay all our bills in full.
We only talk about the places we liked. We want to be guides, not critics.
Authentic
We like to rest in front of a sublime landscape, to discover an architectural treasure, to enjoy a good meal, to fall asleep in a cosy room… We only share sites that we have visited.
Useful
Being useful to travelers is our goal since our creation in 2013. We try to be as complete and accurate as possible, imagining all the questions our visitors might have.
Committed
Because we believe that travel shapes the open world we want to live in, we have chosen to offer most of our content for free.
Wherever possible, we will support actions to promote access to travel.
Our destinations
For each country or region:
many photos to make your opinion
a selection of places which, for us, are worth a visit
maps designed by us to help you find your way
a huge amount of practical information
but also historical explanations, hotel recommendations, driving tips…
Just click on the icon and let yourself enjoy!
Working together… differently!
Let's be honest, we don't know how to do everything and our days are only 24 hours long… To bring you all this content, we have gradually built up a small dream-team that helps us put all our travels into words, images and computer code.
Having experienced the good and bad sides of large companies, we are experimenting with new forms of work (freelancers, telecommuting, collaborative tools and platforms…) and are gradually structuring what we hope will be a company that respects everyone and is attentive to others.
---
→ I am a freelancer
You value your freedom, so do we! Do you think you can bring something extra to our blogs? We are curious and await your project.
---
→ I am looking for a job
Are you looking for your future career path and think we could go a long way together? Our team is very small, but don't hesitate to apply.
---
→ I am the owner of a tourist place
Sorry, but we do not accept any paid partnerships. However, don't hesitate to let us know where you are , and we'll look into it when planning our next trip to your region.
---
→ I want to become a "oopser"!
As volunteering is also part of the collaboration process, please let us know if there are any errors in our articles by clicking here.
---
→ I have a project to promote access to travel.
We don't have infinite resources but if you think we can help you, submit your initiative
---
They have already joined the adventure
---
Fanny, Elisa and Myriam came on board the Region Lovers adventure in 2023, and since then have been bringing all their energy and know-how to share their passion for travel with you.
In their words, they sketch out your future stay and give you all the practical information you need to make your choices and enjoy the best possible experience.
Claire and Manu's blogs
to find out all about our zigzags around the world and our life in France.
Loire Lovers
The blog dedicated to the region that hosts the Loire castles and that saw the birth of Manu's daughter.
Corsica Lovers
The Region Lovers blog exclusively dedicated to the most famous French island, Corsica!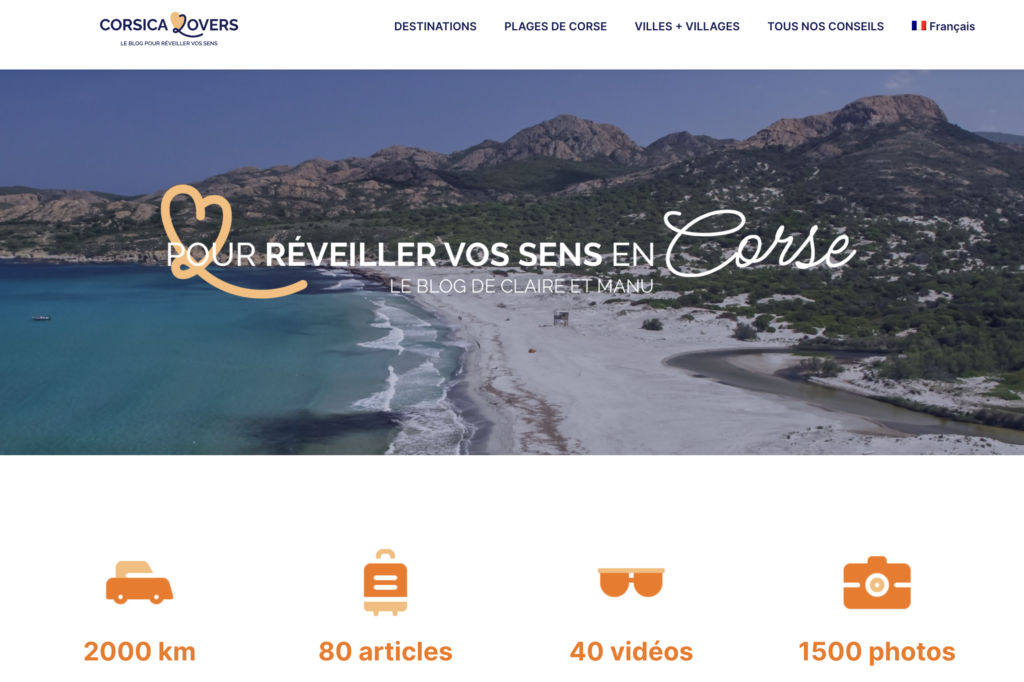 To dedicate ourselves to making all this free content available, we left our positions in large groupsClaire in 2015 and Manu in 2022). In order to make a living from it and to bring in the skills we lack, we call on several sources of financing.
---
The sale of our guides
More than 9,000 Internet users have already purchased our destination guides. Designed to be the indispensable partner of any trip, they are a mine of information that you will not find elsewhere.
Donations
We are appealing to the generosity of our readers to enable us to continue our work.
If they enjoyed our content, we offer to buy them one (or more) coffees, hoping one day to share it physically with them.
Affiliate links
We recommend hotels, car rentals, tours or tourist attractions via the platforms we personally use for our travels and trust.
Every time a user books from one of our links we get a small commission.
The sale of products
We offer a variety of products that we like to take with us when we travel or bring back from our trips.
We also publish small notebooks with our colors to allow our visitors to take a little piece of Region Lovers with them.
Advertising
After resisting for a long time, we're now putting a little advertising on our sites.
Like many people, we'd have liked to do without it, but it's an essential part of offering you certain types of articles (restaurant, culture…).
---
And by the way, if you wish, do not hesitate to support us